Assassin's Creed : The Ezio Collection arrive sur Nintendo Switch en février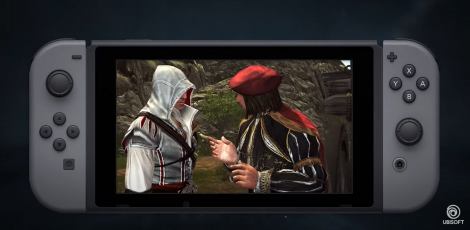 Ubisoft va une fois de plus sortir un nouveau Assassin's Creed et c'est sur Switch cette année, puisque Assassin's Creed : The Ezio Collection arrive sur la console le mois prochain.
Ezio débarque sur Nintendo Switch en novembre prochain
Assassin's Creed : The Ezio Collection sera disponible pour les propriétaires de Nintendo Switch le 17 février. Cette collection de jeux comprend Assassin's Creed II, Assassin's Creed Brotherhood et Assassin's Creed Revelations. Tous les DLC de chaque jeu ainsi que deux courts métrages, Assassin's Creed Embers et Assassin's Creed Lineage, sont également inclus.
Cette version de la Collection Ezio contiendra une interface tactile, HD Rumble, et un HUD optimisé. La version physique du jeu contiendra Assassin's Creed 2 et des codes de téléchargement pour les deux autres jeux de la collection. Comme la version 2016 de The Ezio Collection, la version Switch ne comprendra pas non plus le multijoueur présent dans les versions originales de Brotherhood et Revelations. Elle coûtera 39,99 euros.
La version de 2016 a également été victime de nombreux bugs et glitches, qui ont depuis été corrigés par Ubisoft à travers divers correctifs et mises à jour.
Jeuxend.com participe au Programme Partenaires d'Amazon EU, un programme d'affiliation conçu pour permettre à des sites de percevoir une rémunération grâce à la création de liens vers Amazon.fr